In 1956 Beadle introduced the `Rochester. A credible up-dating of it's previous styling. It was powered by the Commer TS3 and proved to be the most successful integral of this type.
A surprise customer were Southdown who bought 5 central entrance examples. These were followed in 1957 by a further 20 vehicles but with front entrances.
Instead of the normal chromework offered all the Beadles carried many Southdown features which incorporated the same styling as it's Duple Ambassadors. No signs of Beadle or Commer appeared in view and the Southdown insignia appeared on the front. A further disguise was the appearance of the familiar side roof, however once the engine was started left no doubt.
Quote from Southdown Part Two by Colin Morris
The choice of Commer units for the Southdown fleet must go down as another company surprise. Fitted with snarling TS3 two stroke diesel engines made at the old Tilling Stevens factory in Maidstone whence in earlier times had come so many Southdown vehicles. It looked like a Southdown coach even if it didn't quite sound like one.
Fleet & Reg. No`s 6-15 TCD 6-15 16-25 TUF 16-25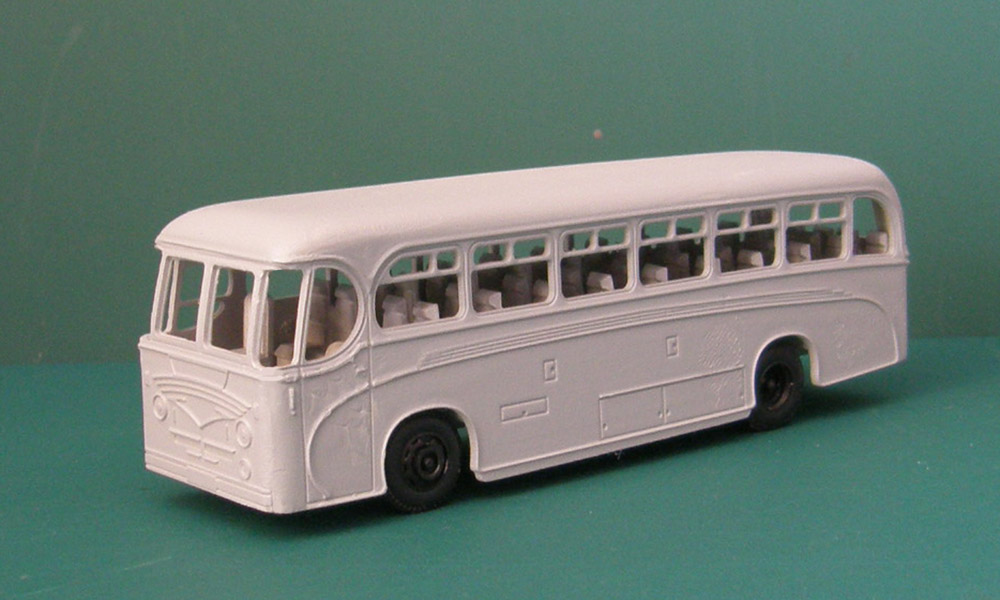 The parts include:
Resin Body shell, Resin seating unit, metal base, steering wheel, glazing and moulded side screens and composite rubber wheel and axle set.
The kit may be completed in any order, but the following is suggested.
· The main body parts may need cleaning in the aperture areas with a craft knife or small file.
· Unless the parts are handled excessively they do not need cleaning, sanding or any other abrasive action as this will do more harm than good.
· If cleaning is needed use warm soapy water and rinse afterwards
· Fit the metal base to the seating/chassis unit, drill and fit steering wheel and column.
· Cut axles to required length. The wheels are a push fit and may be put on the axles for painting purposes.
· Fit and glue base plate to chassis
· Fit steering wheel
· All parts are now ready for painting and this is a matter of choice You may brush or spray and in either case a primer undercoat is recommended
· Cut the glazing material to size and glue to the inside with a light contact
adhesive Kristal Klear or Bostik solvent free.
The moulded glazing should be trimmed with scissors as close as possible to the edge of the curve and tried in position to achieve an accurate fit
· Fit glazing
· Fit axle through holes and push fit wheels
Suggested suitable adhesives are Superglue, Araldite, Bostik