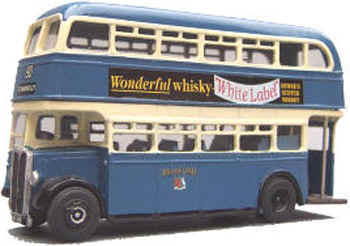 NB1 AEC Regent III / Northern Coachbuilders
NB3 Guy Arab / Northern Coachbuilders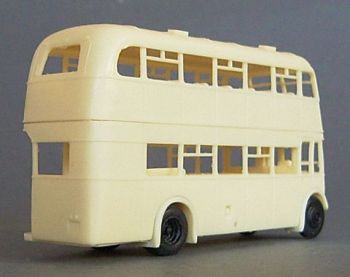 Northern Coachbuilders, not to be confused with Northern Counties, was formed in Newcastle-upon-Tyne in 1931.
They produced a standard post-war double deck body from 1946 until 1951, which was of composite construction and flexible enough to be fitted on several different makes of chassis including AEC, Leyland, Guy and Daimler. This body type was also available, in kit form, produced as a trolleybus and issued, by Little Bus Company, in 2004.
The kit is a re-master of a previous model from some years ago, and is again based on the AEC Regent III (NB1) and Guy Arab (NB3) chassis'. With the present kit design, the cab and bonnet line is easier to change, which represents the main differences between the various manufacturers.
The following companies operated vehicles with the Northern Coachbuilders body:
Operator
Chassis
Fleet No.
Registration
Glasgow
AEC Regent III
A71-90
FYS171-190
Glasgow
Daimler CVD6
D1-20
FYS 101-20
Dundee
Daimler CWD6
35-54
YJ9039-9058
Aberdeen
Daimler CWD6
56-81
BRS556-581
Aberdeen
Daimler CVD6
160-169
DRS 360-369
Bolton
Leyland TD5
216
AWH954
Blackburn
Guy Arab II
73-84
ACB901-912
Bradford
AEC Regent III
524-543
EKU524-543
Sheffield
AEC Regent III
148-150
425-434
KWB48-50
KWB81-87
Sheffield
AEC Regent III
425-434
MWA825-843
Sheffield
Daimler CVD6
14, 66, 81,
110/111,
129-132,
138, 139
KWB914, 866, 881,
KWB910/911,
KWE29-32,
KWE38, LWE139
Yorkshire
Guy Arab II
528-542
HD7811-7825
Northampton
Daimler CVG6
150-169
ANH150-169
Newcastle
AEC Regent III
251-280,
311-350
NBB251-280,
NVK311-350
Northern General
Guy Arab 5LW
?
?
Maidstone
Daimler 6LW
74-76
JKO638-640
The photo (right) shows the Guy Arab (NB3) version with Northern Coachbuilders body, with the AEC Regent III (NB1), below.
Master for the model designed and built by Neil Mortson for Little Bus Company