In the post war period serious delays occurred in the manufacture of RT bodies from both Park Royal and Weymann.
This caused London Transport to order additional bodies from other body builders. Possibly the most interesting were 120 bodies ordered from Cravens Ltd of Sheffield which for speed of delivery were based on their stock product. These featured smaller windows with 5 bays, a more upright front and a more curved back. The were Londonised a bit with standard destination boxes including the typical London front roof route number box.
They were classified RT3/4.
Fleet No's: RT 1402 - 1461 Reg No's: JXC 165 - JXC 224
Fleet No's: RT 1462 - 1521 Reg No's: KGK 721 - KGK 780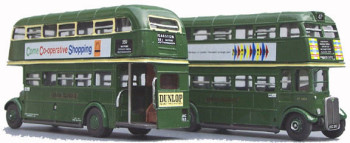 The first 30 were green and allocated to Watford and Windsor Garages. The Central area allocation were treated as part of the standard RT fleet so they could be found in small numbers at many garages throughout the area. They were short lived and withdrawal started in 1955 with the last red ones going in April 1956. The final green ones disappeared in October of the same year.
Modelling points to note were they had gone before the introduction of trafficator `ears` and also prior to lower case destination blinds. They were however introduced with cream top windows and restricted blinds. They did not carry rear upper deck adverts. For the non London modeller the roof box can easily be removed.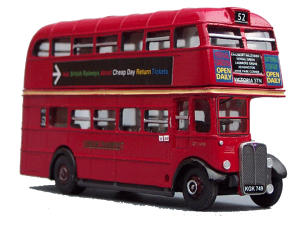 These high standard buses hitting the second hand market in 1956 soon found new homes with other operators. At least 70 went to Scotland with no less than 30 to Dundee Corporation and several to A1 Service Ardrossan, Garelochhead Coach Services and Lowland Motorways. South of the border they could be seen with Cream Bus Service Stamford Thomas Beckett Hucknall, Black & White Harvingtom, Burwell &District;Lloyd Nuneaton,Stevenson Uttoxeter, Red Rover Aylesbury and Morleys Grey Coaches Bury St Edmunds to name a few. A complete disposal list appears in Buses Illustrated No 36 February 1958