Kit WIL 3D
LEYLAND PDR1/1 ATLANTEAN DOUBLE DECK, WILLOWBROOK FULL HEIGHT (14' 5") BODY - DEVON GENERAL, YORKSHIRE TRACTION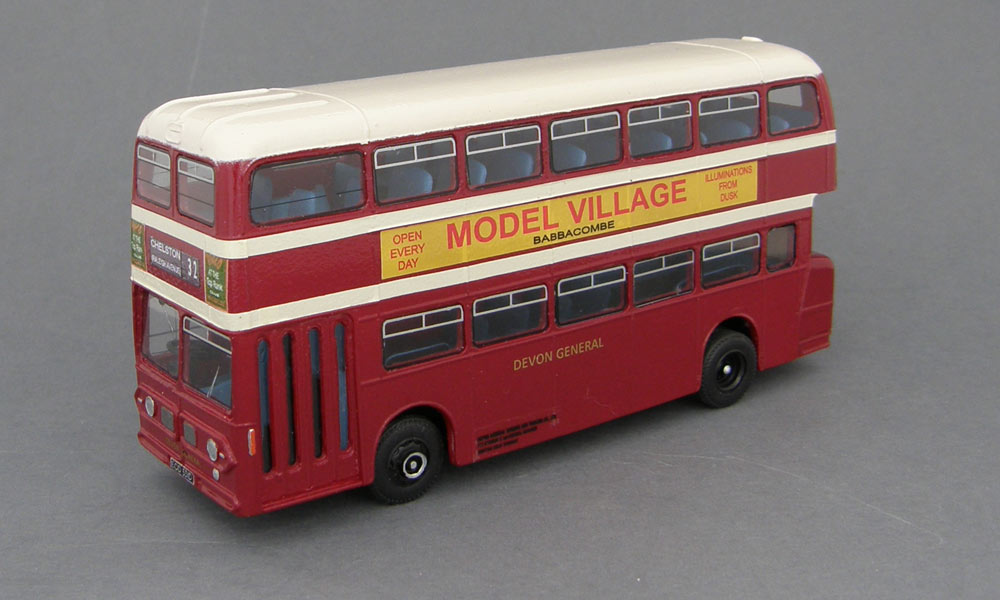 Willowbrook of Loughborough was a small scale bodybuilder, a subsidiary of Duple from 1958 and largely building for the BET Group. It entered the rear engined double deck market somewhat notoriously in 1964 by bodying 22 Leyland low height PDR1/2 Atlanteans in Daimler's home territory for Coventry Corporation but followed up the next year with 22 nearly identical bodies on Daimler Fleetline chassis.
This kit is based on the six full height (14' 5") Atlantean PDR1/1s built for Devon General in 1966. The source is a Willowbrook works drawing 8917, kindly provided to LBC by Phil Norris. Four further buses were built in 1969 and were completed in full Devon General livery with Devon "OTT" registrations, but were diverted when new to Yorkshire Traction and re-registered in Barnsley. They retained Devon General cherry red livery until their first repaint.
| | | | | | |
| --- | --- | --- | --- | --- | --- |
| Fleet | Year | Chassis | Fleet Nos. | Rego. | Seating |
| Devon General | 1966 | PDR1/1 | 526-531 | EOD 526-531D | H44/31F |
| Devon General | 1969 | PDR1/1 | 542-545 | OTT 542-545G | H44/31F |
| Yorkshire Traction | 1969 | PDR1/1 | Renumbered YT 747-750 | Re-registered RHE 447-450G | H44/31F |
Photographs of the Devon General buses can be found in "Devon General" by Leslie Folkard and Philip Platt (Roundoak 1994), in "Glory Days, Devon General" by Colin Morris (Ian Allan 2006) and in "Devon General" by Leslie Folkard (Devon General Society, 2007).
"Glory Days, BET Group" by Gavin Booth (Ian Allan 1998) has a photograph of RHE 450G in Barnsley Bus Station in Devon General cherry red livery, while the late Geoffrey Atkins found the same bus in Tracky livery in Barnsley in 1971 (Prestige Series No 5: Yorkshire Traction, Venture Publications, 2000).
Comparison of these photographs suggests that the difference between the two batches was small, mainly confined to the shape and location of the side lamps and the trafficators.
A conversion option is Trent's 571 (ONN 571P) a 1976 AN68 Atlantean, whose original ECW body was destroyed by fire and was replaced in 1977 by a new Willowbrook body. The body is similar to the Devon General buses, but has a plain front dash without the raised mouldings and with a different headlight layout. The bottom of the driver's side window is level with the lower saloon windows and there is no dividing bar in the front windscreen. The rear overhang needs to be extended by 1mm and an AN68 engine bustle substituted. I understand that this body was based on that for the Brighton CUF ***Ls. A photograph can be found in "Buses in Britain – the 1970s", by Stewart Brown, Capital Transport 1999.
Photographs of built kits are shown below: