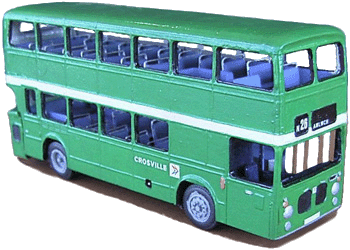 ELC2
Bristol VRTII / East Lancs
9.5m Double Deck
East Lancashire Coachbuilders, of Blackburn, set its market during the '60s and '70s as a 'bespoke' manufacturer for the municipal sector. Whilst it would be unkind to say that every vehicle was different, certainly every batch was unique to the operator who received it. This makes it difficult to make a model of a 'standard' East Lancs bus.
Nevertheless, the general proportions, window spacing and the characteristic lipped fibre glass roof domes were common to most 9.5 metre bodies built during the 1970s and early '80s on Atlantean, Fleetline, Bristol VRT and Dennis Dominator chassis.
I have selected, for this kit, the eighteen Series 2 Bristol VRTs with East Lancashire bodies, which were delivered to Sheffield Corporation in 1972. (OWE267-284K, fleet Nos.267-284)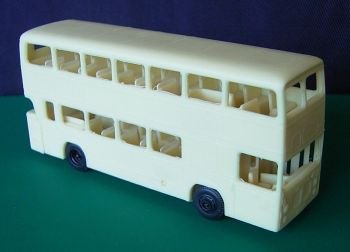 These buses passed to the South Yorkshire PTE in 1974 and were disposed of to the National Bus Company in 1980. The eighteen buses duly went to Crosville (six) and Maidstone and District (twelve), and several of the latter went on to receive the maroon (pre-deregulation) and blue, yellow and cream (privatisation) livery of Hastings and District. OWE271K currently resides at the BMMO Museum at Withall, Birmingham, where it is undergoing restoration to original Sheffield condition.
Crosville buses were fleet numbered HVG931 (OWE267K), HVG932 (OWE272K), HVG933 (OWE273K), HVG934 (OWE274K), HVG935 (OWE277K) and HVG936 (OWE280K)
Maidstone & District buses were numbered in a 57xx series, with the last two numbers corresponding to the registration (e.g. OWE275K became 5775).
Perhaps because they were unusual, the VRTs have been well-recorded photographically, and useful references are:
Bristol VR by Martin S Curtiss (Ian Allan, 1994)
Glory Days - Bristol VR by John Hypher (Ian Allan, 2002)
East Lancashire Coachbuilders by Harry Postlethwaite (Venture, 2000)
Sheffield Transport by Charles C Hall (TPC, 1977)
East Lancs bodied VRTIIs were also supplied to Liverpool, and VRTIIIs to Burnley and Pendle, Rhymney Valley, Northampton and Lincoln. However, the Liverpool versions (long and short) differ substantially from the standard East Lancs body represented by this kit. Rhymney Valley buses had four-bay bodies. The Burnley, Lincoln and Northampton (2-door) bodies are similar to this kit, but with a more pronounced radiator grille and a fully-enclosed engine compartment. There are many detail differences.
Tony Swift, Kirribilli NSW, Australia, August 2005